Wow, it's hard to believe that Solidarity Studios' inaugural workshops in Chicago have already finished!
For 7 days at IMAN's Arts and Culture Center on W. 63rd Street, our team of teachers, facilitators, and students learned from each other, worked together, and built lasting relationships. Our students and instruction team came in ready to collaborate and so we were able to click quickly and make a number of promising songs and drafts within just a few days.
Most of us had never met prior to the program, yet everyone's earnestness and positivity created an incredible environment.
Every night, we cooked wholesome meals at the IMAN kitchen using ingredients from the local corner stores and IMAN's Farmer's Market. It was important that we break up the lessons/workflow with a healthy, energizing meal and eat together as a family.
Throughout the week we were thankful to be joined by guest speakers from the community and from the music industry who took time out of their evenings to break bread with us and share their knowledge. Speakers came from all walks of life and professions, ranging from Chicago rappers/producers beginning to work with major labels to community leaders from IMAN to successful entrepreneurs in fashion, marketing, and audio engineering.
 
We worked in FL Studio most of the week and the students got hands on experience recording and/or making their own beats, even the songwriters who had never made a beat before! Many students mentioned that this foundational instruction, combined with the Music Theory, allowed them to approach composing much more confidently after the program.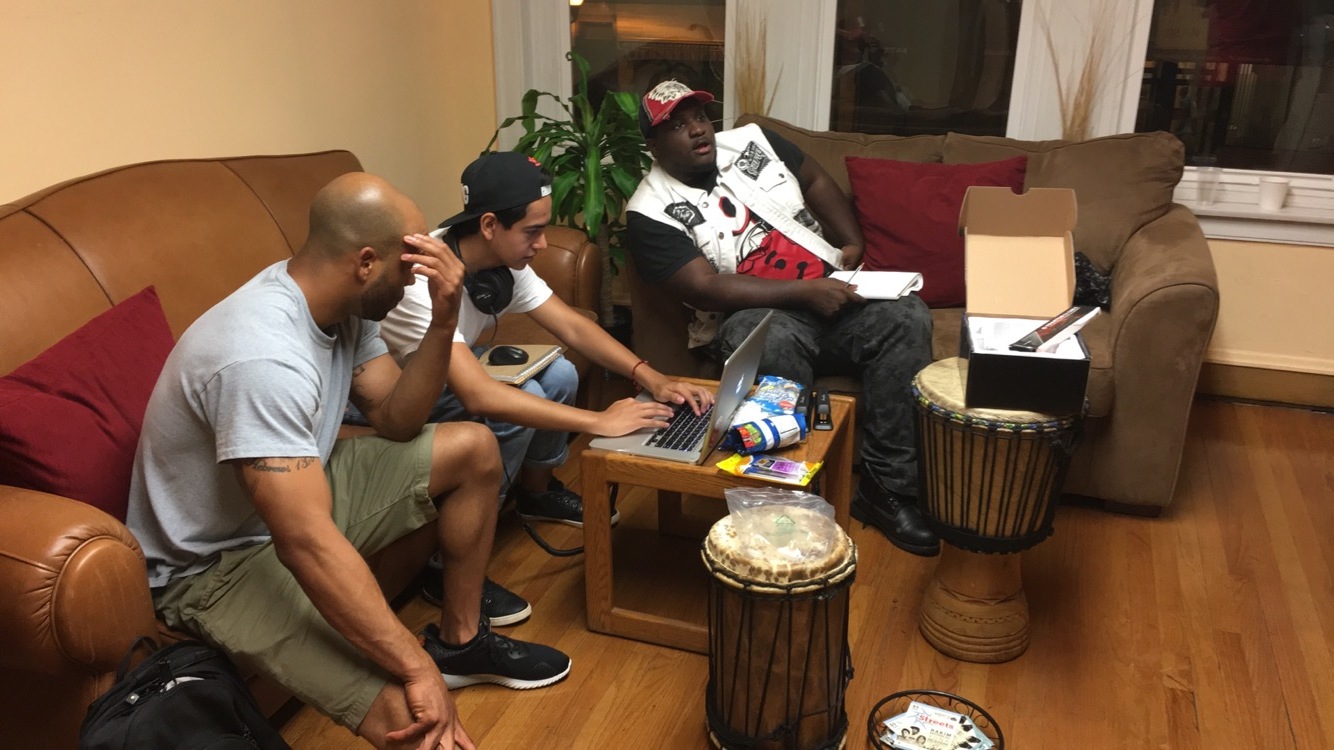 The workshops wrapped up with a presentation of everyone's works, and the energy was still very high, even after a full week of instruction. Many of our students worked full time jobs during the day and joined us in the evening where classes and spontaneous discussions could keep us there until midnight. We even had full classes on Friday night and on the weekend mornings! It was an environment, and a collective, everyone was willing to sacrifice for. Within one week, 3 of our students: Inky, John the Author, and Elleven even performed their new songs at IMAN's Taking it to the Streets festival!
In 7 short days, we produced 8+ original beats, 3+ original songs, and built relationships that will last a lifetime. We have learned a ton from this inaugural set of Solidarity Studios workshops and cannot wait until the next round!
On behalf of the entire Solidarity Studios Team, thanks to EVERYONE involved for bringing your positive energy and making the program what it was.
Thank you to OUR INCREDIBLE STUDENTS:
Andres Souchet
Cesar Almeida
Charles "Honey Padre" Honeywood
Evelyn "Elleven" Smith
Del Marie
DeQuan Jackson
John "the Author" Baker
Kristopher "Mosense" Davis
La'Ron "Inky" Hood
Markus Harris
Me'Chelle Robinson
& our amazing Solidarity Studios team:
Ranadeb Choudhury
Kalonji Nzinga
Thanks to our donors and sponsors for believing in our mission. And thanks to our inspiring guest speakers for spending time with us and being so candid.
For additional photos, check out our gallery here!